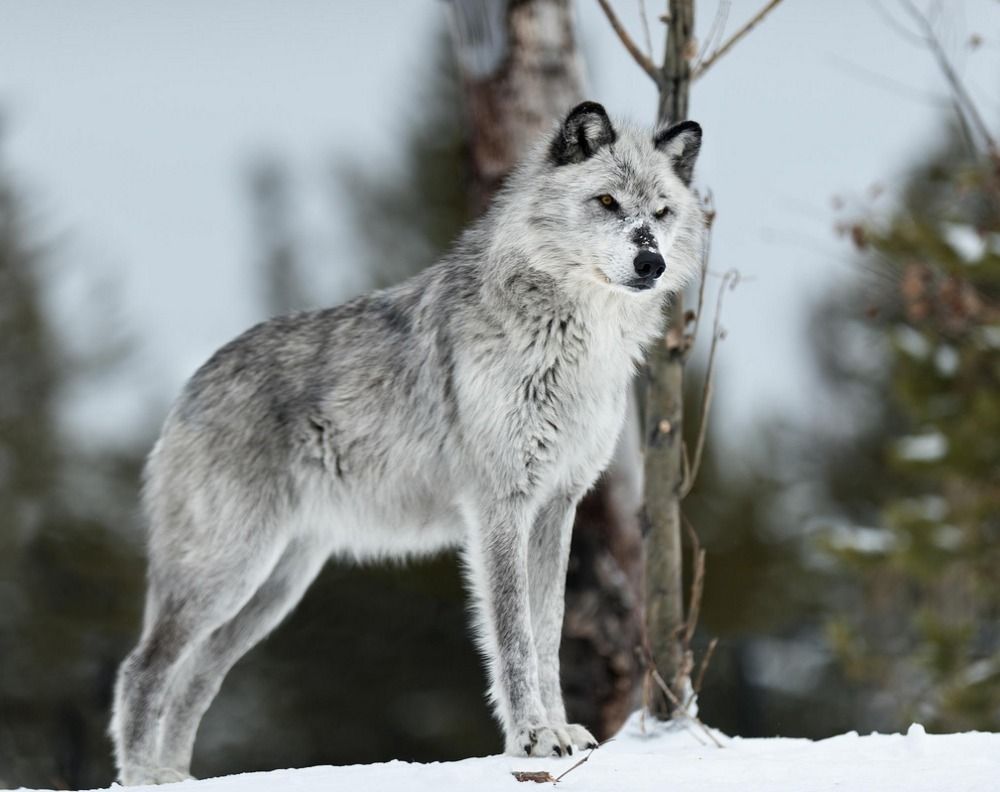 Name:
Scorpio
Nickname:
Zodiac, Astrology
Gender:
Male
Age:
Ageless
Species:
Demonic Wolf
Rank:
Sentinel
Voice:
Smooth, soothing, but ultimately beautiful. He almost never speaks above sub-level, even when he is angry or upset. Like a villain.
Fur:
Silver curls crest his chest, each strand ending in a sudden charcoal black that was stark against the white fur that colored his lover chest and belly. His muzzle is a shade of dark gray that roughly matches the dark colors to his ears and fur tips. The texture is silky and and wonderful to touch around his neck and face but gradually grows a bit more rough and disorderly toward his back and tail.
Optics:
Gold, with amber rims and flecks of silver-blue around his pupil.
Build:
Scorpio is built as a warrior, with rippling muscles that stretch his skin and make him look bulky. Though heavy in strength in endurance, he is also more agile than most wolves, being able to jump higher and run faster than even the fleetest wolf in a pack.
Personality:
Scorpio is friendly most of the time, strong willed and intelligent like his tutor (I'm sorry, I had to

) He is quick to think and great at making difficult decisions, but will break down in frustration when overwhelmed, which isn't often. When he is angry, however, he is often too intelligent for his own good, great at arguing, and just plain arrogant. Scorpio loves to tease all of the wolves in the pack, especially Serpent, Ghost, and both his parents, which is not unlike his mother, Silver's aptitude in the same subject. He is fairly respectful to most wolves, and holds an unrestrained admiration for his father, Coal. Also flirtatious, he is pretty popular with the ladies. ;D
Powers:
Scorpio's fangs are coated in venom. The venom affects the part of the brain that controls fear, making the victim much more scared than usual. When he is angry, he can turn into a demonic wolf with leathery dragon-like wings. He is part mortal, but will never die, and pain resistant for the most part.
Relationships:
Silver-
Scorpio's mother and caregiver, he loves her to the ends of the earth.
Coal-
Scorpio's ebony-shaded father, he admires this wolf to no ends, and would follow his lead even if it meant his own demise.
Ghost-
Scorpio looks up to him, thinking him a sage and somebody to be admired.
Serpent-
Scorpio's tutor, caregiver, and best friend, he both admires this wolf and fears him, knowin g the bloody history that was centered around his puphood.
Strengths:
Swimming, Fishing, Running, Fighting, Hunting, Romance, Freaking people out to the max.
Weaknesses:
Medical Situations, Awkward Conversations, Not being able to help in an important situation.
Scent:
Forest fire, blood, ashes.
Theme Song:
https://www.youtube.com/watch?v=qMRJmrLYVTw
(I just wanted to submit a bio for him. Considering that he will be one of my later characters.)